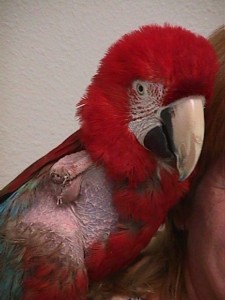 Pain is poorly understood in avian species. The prevention and alleviation of pain are important for a number of reasons, including humane considerations and the prevention of undesirable metabolic and behavioral side effects because of pain.
Criteria that may be used to determine whether a patient is in pain are as follows:
Would the inciting surgical lesion be painful in humans?
Is the lesion damaging to disuse and to what degree?
Does the bird show aversive response to the lesion?
Symptoms and signs may indicate pain including:
Change in temperament (aggressive or passive)
Appearance of being uncomfortable (unable to rest)
Decrease in normal activity, especially grooming (often exhibited as fluffing, reluctance to perch)
Anorexia, lameness, or dropped wing
Guarding the back or splinting of the abdomen
Biting or chewing at the painful site, sutures or bandage
Rolling or thrashing may be a sign of severe pain but must be differentiated from seizures.
Procedures that the author considers painful include:
Burns
Crushing trauma (especially those injuries involving long bones and large muscles masses)
Beak trauma
Abrasions or bruising of distal extremities, especially the scaled skin of the feet
Not obviously painful are lacerations of the feathered skin and some simple fractures. Pain may be alleviated in some cases by supportive environment or protective or supportive bandaging of the affective part.
Analgesics have been poorly studied in avian patients, especially psittacines. The author has had good results using flunixin(1) and butorphanol tartrate(2). Promise has been showed with initial work using buprenorphine hydrochloride(3).
All of these drugs are injectable and the patient should be hospitalized while they are being administered.
1. Banamine; Schering Corp., Kenilworth, NJ
2. Torbugesic; Fort Dodge Laboratories, Fort Dodge, IA
3. Buprenex; Rickitt & Colman, Hull England