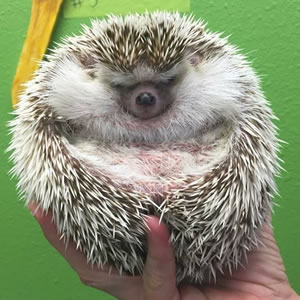 The pet or domesticated hedgehog, commonly referred to as the African Pygmy Hedgehog is an exceptional animals that is easy to care for and friendly if properly socialized. Not a wild species, the pet hedgehog is a hybrid of two African species (Atelerix algirus) and (A. albiventris). Hedgehogs are classified as insectivorous and in the wild spend most of their time searching for food. In captivity, they prove to be curious animals who spend an abundance of time exploring their environment.
Housing
House your hedgehog in a large glass or plastic terrarium, or a tub type guinea pig cage. Choose a cage with smooth walls that are high enough to prevent the animal from climbing out. Wire bottomed cages should be avoided as they allow their feet and legs to slip through spaces between wires, causing injury. The cage must have ample floor space to encourage movement and prevent obesity in your little friend. Keep the cage in a warm room. A good range of temperature for a hedgehog is 72-85 degrees Fahrenheit. Use a heater, such as a stick on "under tank heater" available in the reptile department of most pet shops, on the cage in cool climates and cold months. Cleaning the enclosure on a weekly basis helps control unwanted odors, making it a good pet to house indoors.
Accessories
Cage bedding should be nontoxic, absorbent, and relatively dust free. Avoid cedar or pine shavings as they cause respiratory problems in hedgehogs. Shredded paper works well and is cost efficient. Our hospital recommends Carefresh, a paper bedding that is soft, absorbent, and easy to clean. Hedgehogs need a shelter, or a hide box in their cage. Offering a PVC pipe, plastic pot on its side, a tissue or shoe box, or another form of shelter, will give your hedgehog a place of security and a place to sleep.
Hedgehogs require exercise to satisfy their desire to forage and to avoid obesity. This is easily achieved due to their curious and inquisitive nature. Hedgehogs love to push, chew, and manipulate toys, such as hard plastic balls, and paper towel rolls. An exercise wheel made for a hedgehog or chinchilla will be used. Again, be sure it has a solid walking surface so feet won't get caught in any holes.
Feeding
Hedgehogs are classified as insectivorous (insect eaters) but appear to be very opportunistic eaters in the wild eating a wide variety of insects, mollusks (worms and snails) small animals and vegetation, fruits. and greens. Using this information, commercial hedgehog diets have been created to adjust to their dietary needs in captivity. These diets may contain chitin, a material found in the exoskeleton of insects, that some feel is required in the hedgehog diet. If a commercial hedgehog diet is unavailable, it can be substituted with a high quality, high protein/low fat cat food. This can be offered with small amounts of mixed fruits and vegetables. As a treat, hedgehogs will go "hog wild" for live insects, like crickets, mealworms, or earthworms.If your hedgehog becomes overweight, limit the quantity of food and treats given, and increase exercise.
Handling
The quills on the hedgehog are stiff and sharp to the touch. The quills provide protection when the animal rolls up in a tight ball. When attempting to handle your pet, approach it slowly and quietly. Avoid the quills by lifting the animal from the underneath, where the fur is soft, and hold your pet cupped in both holds. Handle your pet every day for a few minutes and it will become socialized and easier to handle.
Common Problems
Mites
Mites are an external parasite that feed off your hedgehog and burrow in the skin at the base of the spines. Mites can be extremely debilitating on your hedge if they go untreated. You will probably notice loss of quills, or dry patches of skin. Ask your vet to perform a skin scraping to determine if there are any signs of mites on your hedgehog.
Respiratory Infection
Respiratory infections are common and often associated with a too cold environment or stress. Discharge will be seen on the face or wrists of the front legs and respiration may sound wheezy or crackly. Respiratory infections in hedgehogs are life threatening and medical attention should be sought as soon as possible. Treatment consists of antibiotics and supportive care and correcting the underlying environmental cause.
Diarrhea
There are several causes of diarrhea in hedgehogs ranging from dietary indiscretion to bacterial, viral and parasitic infections. Dehydration associated with diarrhea is a major concern with these small patients. Soft stool that lasts more than a day or diarrhea associated with other signs that your hedgehog is sick (not eating, inactivity or other change in behavior) should be brought to your veterinarian immediately.
Hibernation
Unlike wild hedgehogs from cooler climates, the pet hedgehog should not hibernate. Cold temperatures will lead to hibernation behavior that all too often ends with pneumonia or other disease problems.
article by Christine Hancock