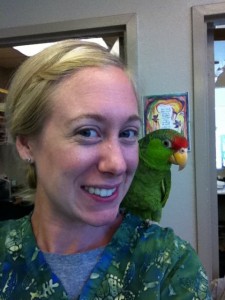 I am originally from Pennsylvania and call Pittsburgh my hometown.  I have really enjoyed San Diego as my new stomping grounds!  I graduated from Emory University in Atlanta, Georgia with a BA in Middle East Studies in 2001.  I then went on to receive my VMD from the University of Pennsylvania School of Veterinary Medicine in 2009.  After completing a 1 year small animal internship at the Regional Veterinary Referral Center in Springfield, Virginia I joined the staff of the Avian and Exotic Animal Hospital in July of 2010.
From the Age of 10, when I got my first cockatiel, Pewe, I was hooked on exotic animals and their care.  During my undergraduate summers I worked for a veterinarian who treated exotic  animals and as an intnern in the veterinary department of the National Aviary in Pittsburgh.  I also worked for the Altizer Lab of Emory University studying mycoplasma conjunctivitis in house finches and Yerkes Primate Research Center studying strabismus in rhesus monkeys during the school year.
My extracurricular activities in veterinary school were also directed toward exotic/wildlife medicine and through externships I gained experience in a wide variety of exotic animal disciplines including field and laboratory research, exotic companion animal medicine, zoo medicine, and wildlife medicine and rehabilitation.  Some of my favorite experiences include The Philadelphia Zoo, Tufts Wildlife Clinic, Tristate Bird Rescue and Research Center and the Center for the Rehabilitation of Wildlife (C.R.O.W.).  While I love all of our exotic animals I have a passion for avian medicine and am currently working towards my avian board certification under the mentorship of Dr. Jenkins.
My personal flock includes two dogs, Bear and Michaela, a Mexican red head amazon, Ernie, a Russian tortoise, Alpo and three tarantulas, Anna Pavlova, the pink toe, Shirley Temple, the curly haired, and Billie Holiday, the green bottle blue.  When I'm not at work or studying, my favorite activities include hiking with my dogs, baking, training for half marathons, and exploring San Diego!
I was recently published for the first time!  Here is the citation to my first article:
Jane D. Stout, David F. Brinker, Cindy P. Driscoll, Sherrill Davison and Lisa A. Murphy (2010) Serum Biochemistry Values, Plasma Mineral Levels and Whole Blood Heavy Metal Measurements in Wild Northern Goshawks (Accipiter gentillis).  journal of Zoo and Wildlife Medicine:  December 2010, Vol. 41, No. 4, pp. 649-655.